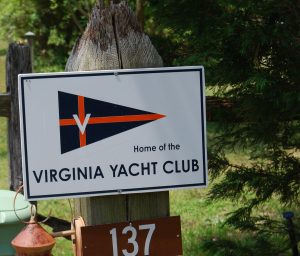 The Virginia Yacht Club was founded in 1948 and is now celebrating over 70 years of yachting. We are a social club whose members have a keen interest in cruising and in experiencing all that our waterways provide. Our boating activities are primarily on the Chesapeake Bay and its tributaries.
Each year we have seven or eight events, all organized by club members. Most activities involve cruising on our boats to various locations on the Bay. We also have winter activities, including a Holiday Party, and an "Asphalt Cruise" generally to a warmer location. Our club is in excellent financial condition and minimal annual dues cover the costs of administration.
Our members come from all around the Bay and are represented at many marinas. We value the long-term friendships that develop among members. At all of our events, we have fun and enjoy the fellowship we share with each other. We are open to all boaters, power or sail, and welcome anyone who shares our interest in yachting on the beautiful Chesapeake Bay. We hope you will consider joining us for wonderful fellowship and grand times!
Thank you for your interest.